Beyond the Count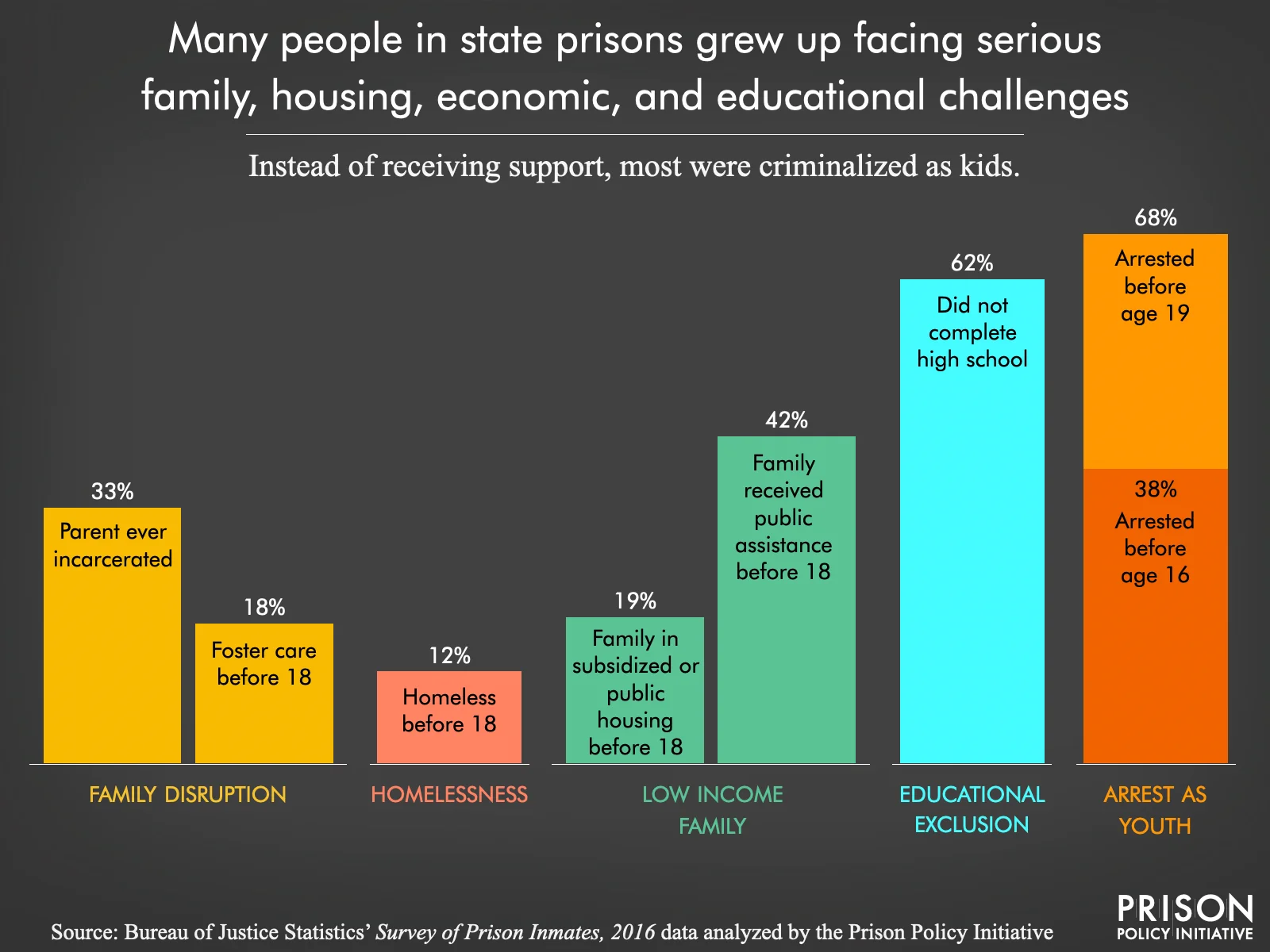 Prison Policy Initiative, April 13, 2022
This new Report uses demographic data to show the social disadvantage of people locked up in state prisons.
People in prisons have endured disadvantage and poverty all the way back to childhood, the Prison Policy Initiative's new report shows.
High Road Labor Market Analysis: Behavioral Health Services Sector
The Worker Education and Resource Center (WERC) just released this report which identifies a Peer Workforce & Trauma-Informed Practices as important to meeting behavioral health needs in Los Angeles.
A new labor market analysis of the behavioral health services sector by WERC identifies peer workforce and trauma-informed practices as important to meeting behavioral health needs in Los Angeles. The analysis offers concrete recommendations for both increasing access to quality jobs for workers with high barriers to employment and addressing critical worker shortages in the sector.
The Red State Murder Problem REPORT
The Third Way, March 15, 2022 by Kylie Murdock and Jim Kessler
The rate of murders in the US has gone up at an alarming rate. But, despite a media narrative to the contrary, this is a problem that afflicts Republican-run cities and states as much or more than the Democratic bastions.
Mass Incarceration: The Whole Pie 2022

Prison Policy Initiative, By Wendy Sawyer and Peter Wagner, March 14, 2022
Can it really be true that most people in jail are legally innocent? How much of mass incarceration is a result of the war on drugs, or the profit motives of private prisons? How has the COVID-19 pandemic changed decisions about how people are punished when they break the law? These essential questions are harder to answer than you might expect. The various government agencies involved in the criminal legal system collect a lot of data, but very little is designed to help policymakers or the public understand what's going on. As public support for criminal justice reform continues to build — and as the pandemic raises the stakes higher — it's more important than ever that we get the facts straight and understand the big picture.
Diversion Programs, Explained
Vera Institute of Justice, April 28, 2022, By Akhi Johnson and Mustafa Ali-Smith
Diversion is a broad term referring to "exit ramps" that move people away from the criminal legal system, offering an alternative to arrest, prosecution, and a life behind bars. Although incarceration was historically believed to improve public safety, research suggests that it is ineffective in doing so and has a minimal impact, if any, on reducing crime. Instead, diversion programs target the underlying problems that led to the criminalized behavior in the first place.
College-in-prison program found to reduce recidivism significantly
Peer-Reviewed Publication
Crime And Justice Research Alliance News Release, December 7, 2021
A new study sought to determine the effects of a college-in-prison program, the Bard Prison Initiative (BPI). The study found a large and significant reduction in recidivism rates across racial groups among those who participated in the program. It also found that participants with higher levels of participation had even lower rates of recidivism. In light of their findings, the authors offer several policy recommendations in support of college-in-prison programs.
Inaugural ATI Impact Report
The ATI Office bases its policy development and program implementation on the Sequential Intercept Model, which aims to support people before they even come into contact with the criminal justice system and divert them from the wrong path. The model also focuses on supporting those within the criminal justice system to ensure better outcomes for individuals and communities.
The ATI Office identifies critical gaps in service throughout this model and works to disrupt the cyclical elements that lead people to a downward trajectory through the criminal justice system.
In its first year of operation, the ATI Office has:
Spent more than 430 hours holding meetings to engage community leaders and the public – including 130 hours focused on Care First Community Investment (formerly known as Measure J).
Supported the expansion of Alternative Crisis Response, building the foundation for the forthcoming 988 number to replace 911 and a law-enforcement response for mental health crisis calls.
Invested in the countywide expansion of Youth Diversion & the Rapid Diversion Court Program, working to divert juveniles and individuals with mental health or substance use disorders into care-first models.
Piloted programs such as ATI Pre-Filing Diversion & the ATI Incubation Academy.
The first evaluation of the Returning Citizens Stimulus project has been published!
LARRP played a large role in implementing this program in LA.
A few highlights:
Despite launching RCS on a large scale with almost no time for planning, the program operated smoothly overall. A notable achievement, particularly in the context of the pandemic.
Participants reported that RCS helped them feel some level of financial stability in the period following incarceration. Most said that they spent the RCS funds on essential expenses such as rent, groceries, and clothing, and on personal care to prepare themselves for employment.
Participants said RCS helped them find, secure, and maintain employment, partly because of the built-in connection to existing reentry programs and partly because it gave them money needed to prepare for working.
On the Brink of Closure
Center on Juvenile and Criminal Justice (CJCJ) November 2021
On the brink of closure, California's Division of Juvenile Justice (DJJ) requires critical attention. DJJ's inherent flaws and high costs led state leaders to heed long-standing calls for the closure of its youth correctional institutions in favor of local alternatives, a process known as juvenile justice realignment. DJJ stopped most youth admissions as of July 1, 2021 and will close its doors by June 30, 2023. California's counties must avoid replicating the state's problematic prison-like environment, lack of oversight, and disparate impacts on youth of color at the local level. DJJ's failures, and consequential downfall, should stand as a warning. Repeating these failures locally will endanger our most vulnerable youth.