Education Committee:
February 3, 2022,
4:00PM - 5:30 PM
Going forward the committee will meet on the first Thursday of the month from 4-5PM.
February General Meeting
February 17th, 10am - 11:30am
Integrated Health:
JANUARY MEETING CANCELLED!!!
February 7, 2022
1:00 - 3:00 pm
Employment Committee
March 16th, 2022 2:00 PM
Housing Committee  Meeting
March 17th, 2022 1:30 PM
California's New Homeless Hiring Tax Credit:
Connecting Business and Unhoused Service Providers with California's HHTC
Monday, January 24, 2022
11:00 AM - 12:00 PM PST
Monday, January 31, 2022
11:00 AM - 12:00 PM PST
NARCAN and Harm Reduction Trainings - January
Wednesday January 12th, 9:30am 
Tuesday January 25th, 6pm
Greater Los Angeles Homeless Count
January 25-27, 2022
Please join us for this meaningful demonstration of community engagement to end homelessness!
Peer-Led Innovations in Reentry Support Programming: Towards Holistic Recovery
Feb 16, 2022 03:00 PM in Eastern Time (US and Canada)

Reentry Peer Specialists are equipped with unique knowledge and expertise from lived experience to provide critical supports to individuals reentering the community after incarceration. Recent peer-led developments in the field provide more opportunities to support reentry peer specialists and address the critical needs that people face upon reentry. This webinar will provide information about supporting reentry peer specialists and reentry peer support programs through providing certification, training, and the knowledge and resources to effectively support people in transition from incarceration to the community. Three presenters will discuss the opportunities that come with training and education, along with the policy and practice challenges of supporting people in recovery who are transitioning back to the community, including peer support specialists, themselves.
Prop 47 Joint Local Advisory Committee (JLAC)Public Meeting
5pm-6:30pm Thursday February 24, 2022
This meeting is open to the public, individuals impacted by the legal system, and providers of social services for the reentry population are especially encouraged to come!
For questions or comments about these meetings contact Jessica Sarriot (JSarriot@dhs.lacounty.gov)
ATI - Upcoming Meetings
ATI Meetings
Alternative Crisis Response (ACR) Public Convening
D.O.O.R.S (Developing Opportunities And Offering Reentry Solutions)
Community Reentry Center Orientations
Mondays 9 AM-10 AM IN PERSON!
3965 Vermont Ave. Los Angeles, Ca 90037 1St Floor, Room 136

THURSDAYS 2 PM-3 PM VIA ZOOM
MEETING ID: 836-3062-3920 (No Password Required) CALL-IN NUMBER: 1-669-900-9128
LA Coalition for DA Justice and Accountability Meeting
Fourth Thursdays of the month,
4-6 PM
Court Relief for Criminal Records
Last Tuesday of Each Month
2:00 pm – 3:30 pm Online with Skype
Did you know that applying for court relief may reduce the barriers of a criminal conviction and make it easier to obtain a job? Attendees of this Webinar will find out how Reductions of Charges, Expungements, and Certificates of Rehabilitation may increase their opportunities for employment and job licensing. They will learn the criteria to qualify, how to apply if eligible, and be provided resources in their community that can be helpful in their rehabilitative journey. In addition, a lawyer from the Inland Empire Latino Lawyers Association will be present to answer questions and provide information on the free legal services they offer for eligible individuals. Offered on February 23rd. Registration required.
Legal Clinics hosted by the Legal Aid Foundation of Los Angeles (LAFLA) and the  D.O.O.R.S team
Expungement and Early Termination of Probation Workshop: Every 1st Wednesday of the Month at 1:00pm (More Info)
Citations/Tickers Workshop: Every 2nd Wednesday of the Month at 10:00am (More Info)
Fair Chance Hiring Workshop: Every 4th Wednesday of the Month at 1:00pm (More Info)
The legal clinics are open to existing/active D.O.O.R.S clients as well as any person who have been system impacted and are looking to connect to legal services at the reentry center. Please note if a client is on active probation, their DPO will be required to submit a RUU referral on their behalf in order to activate legal services. DPO's are encouraged to submit the appropriate RUU referral concurrently with recommending attendance to the legal clinics.
Questions: Call D.O.O.R.S Center reception desk at 323-730-4442
Please note: LARRP General Meetings and other events are open to the public. By attending, you consent to having your voice and likeness recorded, photographed, posted on LARRP's website and social media, and included in LARRP's materials and publications for noncommercial purposes. If you don't want to be photographed or recorded, please let the facilitator know so you can be seated accordingly.
County government
Keep up with the Board of Supervisors meetings, motions and resources at LARRP Steering Committee member, Joseph Maizlish's site
Inmates to Entrepreneurs
Free Entrepreneurship Program
Wednesday, February 2, 2022 at 5 PM PT.
Brian Hamilton, tech entrepreneur and philanthropist, has a free 30-year-old Inmates to Entrepreneurs program that helps people with criminal backgrounds start low-capital businesses.
More details and registration information can be found HERE
Defy Ventures Entrepreneurship Bootcamp
Defy Ventures is launching their bootcamp and would like recruits.
Council Reentry Program
A no-cost, customized approach that includes warm hand-off support services initiated during incarceration, and continues throughout the release and reintegration process with case management, ongoing council sessions for participants and their families, and advanced training in council facilitation for those who have found healing in this practice and want to carry it to their communities.
Contact us to apply:
Center For Council Po Box 292586, Los Angeles, CA 90029
welcome@centerforcouncil.org 213-377-5747, ext 3
Your Opinion Matters
A research study on attitudes and perceptions of former prisoners regarding in prison reentry or rehabilitation programs is being conducted. The name of this research study is "A Collective Case Study of Former Prisoners' Attitudes and Perceptions of Prison Based Reentry Programs."
To Participate Please Contact: Scarlet Ford, Doctoral Student at Northcentral University
(909) 915-6911 or S.Ford3670@o365.ncu.edu
The Los Angeles County Reentry Health Advisory Collaborative (RHAC)
is seeking 3 formerly incarcerated individuals or those who have had contact with the criminal legal system to apply for membership. We are prioritizing applicants who live or work within Long Beach, Pomona, East LA, El Monte, or surrounding areas.
In 2019, the RHAC was created out of a need to establish an intentional and effective partnership between communities and health care organizations to better serve populations with complex health and social needs. From this vision, the RHAC has served as a strong advisory body of formerly incarcerated individuals that has provided critical counsel to the Los Angeles County Department of Health Services, the Jail Population Reduction Council, Alternatives to Incarceration Initiative, Care First Community Investment (Measure J), and several other initiatives and programs.
If you are interested in becoming a member of this dynamic and revolutionary group please complete this short application by January 10th, 2022: https://www.surveymonkey.com/r/MRNYSRL
Cerritos College
Cerritos College is removing traditional barriers and providing full access for those on probation for Technical and Career Advancement and or Degree attainment and transfer.
Start Court to College today. Contact: Mark Gambala mgambala@cerritos.edu or Monique Rodriguez mnrodriguez@cerritos.edu to learn more about the program.
Improving Outcomes For Registrants
An Employment Program Of Friends Outside In Los Angeles County

Friends Outside in Los Angeles County is pleased to announce a new employment program for Registrants. We are currently recruiting individuals to participate in our re-entry cohorts
Pathways 4 Equity Program, a 12-month career fellowship
Exciting Opportunity for women who have been impacted by the criminal legal system!

We would like to select at least 3 women from the LA County area by the end of October 2021. They would go through a 3-month preparation phase then be placed in a 9-month career fellowship with an employer partner in the Long Beach area.
More Info and apply HERE
Bringing Incarcerated Survivors into the #MeToo Movement
Incarcerated survivors can't share their #MeToo stories through social media. That's why JDI worked with people living in two South Carolina women's prisons, along with artist Cathy Salser, to create #PrisonersToo — an art installation through which incarcerated people can tell their stories to each other and to the outside world.
View the video and the photos below to see the stories that incarcerated survivors are sharing with you. Then write your message, which will become part of the #PrisonersToo installation, letting incarcerated survivors know that you are listening and that their stories matter.
Seeking Participants For Study On Criminal Records
The Impact of Automated Record Clearance on Individuals, Families, and Communities
$40 Compensation Will Be Provided
Interviews will last approximately 45-60 minutes and be conducted via phone or video.
For questions, email the study team at cacannabisstudy@gmail.com or text us at (669) 696-3967
REDF Accelerator Application Now Open!
Do you lead a mission-driven business that hires and provides support to individuals striving to build a better life and overcome employment barriers? Are you ready to expand your network, extend your reach, and increase your impact? Apply to join the REDF Accelerator, a five month "mini-MBA" program designed exclusively for leaders of employment social enterprises.
The application for our next cohort - which begins on January 24, 2022 - is open now through Friday, October 22.
For an archive of reentry and criminal justice related news, please see our News Archive which goes back years!
Editorial: Want to stop the prison-to-street pipeline? Pass this bill to provide housing
LA Times Editorial Board, Jan. 20, 2022


...The need for reentry housing hasn't slowed, though, and California has an unusual, and enormous, surplus of funds, so there's no reason to delay a program to keep people off the street and reduce criminal recidivism. Assemblymember Isaac Bryan, a Los Angeles Democrat, and several of his colleagues are recrafting the bill to launch a pilot project funded by $200 million from the state's surplus. If it fails to get out of the Appropriations Committee this week, they will introduce a new bill to accomplish the task. Either route works. It's time to create and fund the program.
Thousands of federal inmates to be released under law signed by Trump
KTLA 5, Jan 13, 2022
The Justice Department will begin transferring thousands of inmates out of federal prisons this week as part of a sweeping criminal justice overhaul signed by President Donald Trump more than three years ago.
The department, in a rule being published Thursday in the Federal Register, is spelling out how "time credits" for prisoners will work. The bipartisan law is intended to encourage inmates to participate in programs aimed at reducing recidivism, which could let them out of prison earlier. It also eases mandatory minimum sentences and gives judges more discretion in sentencing.
Lesson of the Day: 'What It's Like to Leave Prison During a Pandemic'
NYTimes by By Jeremy Engle, Jan. 13, 2022I
n this lesson, students will learn about the challenges facing people released from prison. Then, they will explore ways to support the formerly incarcerated.
California criminal justice panel eyes 'three strikes' law changes in 2022
LA Times, By Hannah Wiley, December 31, 2021

SACRAMENTO — For more than a year, a seven-person California commission has been quietly spearheading a massive effort to overhaul the thicket of criminal laws that make up the state penal code.
Its ideas for 2022 are ambitious, including an eventual end to the state's controversial "three strikes" law and changes to lifetime prison sentences without the possibility of parole.
Pregnant Behind Bars, Part 5: Looking To The Future
Witness LA, December 31, 2021 by Taylor Walker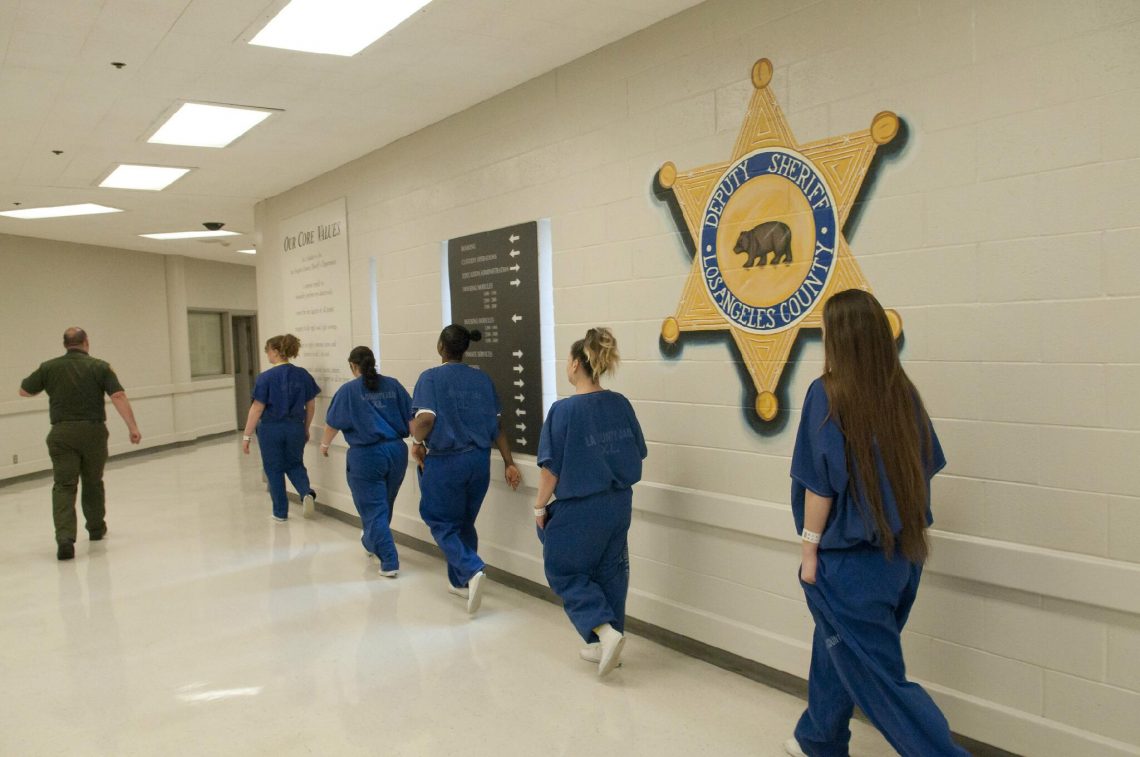 At the beginning of this five-part series, we looked at the statistics and history of incarcerating pregnant people and women in LA and nationally and introduced readers to Los Angeles County's unique Maternal Health Diversion Program. In subsequent parts of the series, we went step-by-step through the pregnancy diversion process which starts in jail, and ends with permanent housing, and looked at ways in which that process can get knocked off track. Later, we shared experiences of individual mothers participating in the program — stories of living unhoused, of frequent incarceration, of being pregnant in jail, and of life after the diversion program.
Now, in the final part of the Pregnant Behind Bars series, we'll explore the pressing need for LA's Office of Diversion and Reentry to scale up its diversion capacity, and why, thus far, the money to do so hasn't been there.
The Sentence
A new podcast about the system that sentences juveniles to life in prison, a story of incarceration, redemption, and the unusual relationship between a journalist and a source.
The Justice Department says inmates confined at home can stay there after Covid emergency ends
NYTimes, Tuesday, December 21, 2021
The Justice Department moved on Tuesday to allow federal inmates to remain on home confinement after the government declares an end to the Covid emergency, reversing a Trump-era legal opinion that said the Bureau of Prisons would have to recall them to federal facilities.
The Biggest Crop in Prison Gardens: Hope
The Crime Report, December 21,2021, By Eva Herscowitz
Jamala Taylor didn't grow up a gardener. "Inner cities have more liquor stores than trees," he quips. So there is some irony in the fact that his introduction to gardening came in a place that few would associate with greenery: California State Prison in Los Angeles County.
Open Letter Re: Recent New York Times George Gascón Article
This is an open letter, published in the LA Progressive, that LARRP and many of our partners signed on to.
"We are writing in response to the recent New York Times Magazine story about George Gascón: He's Remaking Criminal Justice in L.A. But How Far is Too Far? by Emily Bazelon and Jennifer Medina. We appreciate it when reporters ask difficult questions about what policies best protect public safety, when they interrogate well-accepted but unproven norms about how to reduce crime, and when they examine public perception of crime and causation versus reality. This article does some of that, but it also misleads the public on the current state of criminal legal system change in Los Angeles and across the country. We are at a precipice in this country, where criminal justice reporting that strays from an objective discussion of research and evidence can support political attempts to roll back badly needed change. For this reason, we issue this response..."
College-in-prison program found to reduce recidivism significantly
Peer-Reviewed Publication
Crime And Justice Research Alliance News Release 7-Dec-2021
A new study sought to determine the effects of a college-in-prison program, the Bard Prison Initiative (BPI). The study found a large and significant reduction in recidivism rates across racial groups among those who participated in the program. It also found that participants with higher levels of participation had even lower rates of recidivism. In light of their findings, the authors offer several policy recommendations in support of college-in-prison programs.
How Do We Begin Again?
Zócalo Public Square, December 7, 2021
Live from the ASU California Center: Artist and co-founder/executive director of Homeboy Art Academy Fabian Debora, TransLatin@ Coalition president and CEO Bamby Salcedo, and UCLA distinguished professor and psychology department chair Annette L. Stanton visit Zócalo to explore the best ways to make a fr
He's Remaking Criminal Justice in L.A. But How Far Is Too Far?
New York Times Magazine, By Emily Bazelon and Jennifer Medina, Nov. 17, 2021
To keep people out of prison, George Gascón is risking everything: rising violent crime, a staff rebellion and the votes that made him district attorney.
Letter: Build Back Better Act
The Vera Institute of Justice (Vera), a national criminal legal reform and immigrant justice organization, commends the U.S. House of Representatives on the passage of the Build Back Better (BBB) Act, a bill making historic investments in economic and climate change policy that will strengthen our economy and communities across the country for generations to come. We encourage the Senate to take up the bill and pass it quickly while keeping the package intact and ensuring the intended impact of the policy—to improve people's lives and strengthen communities and the economy—is realized.
District Attorney Gascón Announces the Launch of Pre-Filing Diversion Program for Youth
November 17, 2021
Los Angeles County District Attorney George Gascón today announced the launch of a victim-centered, pre-filing diversion program for youth.
"This program will help repair the immense harm that criminal behavior inflicts on our community by giving crime victims the opportunity to actively participate in the restorative justice process," District Attorney Gascón said.
"While victims cannot generally attend the juvenile court process, through restorative justice, we can give crime victims a chance to be a meaningful part of the process to determine appropriate restitution and resolution," said Jessica Ellis, executive director of Centinela Youth Services and the Everychild Restorative Justice Center.