NO GENERAL MEETING IN SEPTEMBER!
Next LARRP General Meeting 
October 21, 2021
10:00 AM
LARRP is HIRING!
We are looking for  a Program Specialist
NO GENERAL MEETING IN SEPTEMBER!
Next LARRP General Meeting 
October 21, 2021
10:00 AM
Housing Committee:
Thursday, September 16, 2021
1:30 PM-2:30 PM
Employment Committee
Wednesday, September 22, 2021
2:00 PM to 3:30 PM
Please join us for two great speakers from REDF!
Greg Ericksen, Director of Government Partnerships & Policy and Lauren Sauer, Team Lead, Learning and Evidence from REDF will present evidence in the field of transitional employment including results from REDF and other research studies on the impact of Employment Social Enterprises on positive employment and recidivism outcomes for justice impacted individuals. We will also discuss the recently passed Homeless Hiring Tax Credit-- a tax credit for employers to hire eligible homeless individuals—and ways to include this in your employer engagement strategies.
County government
Keep up with the Board of Supervisors meetings, motions and resources at LARRP Steering Committee member, Joseph Maizlish's site
Third Party Administrators (Tpas)
Needed To Direct Care First Community Investments
Allocations are due by Friday, September 17, 2021 at noon
Last week, the Board of Supervisors approved an unprecedented $187.7 million spending package to advance the county's care first, jails last vision with a series of direct community investments and funding for alternatives to incarceration—accelerating the process of creating a more just and equitable Los Angeles County for all residents.
As part of the package, known as the Care First Community Investment (formerly Measure J), more than $60 million will be allocated to direct community investments and many of those programs will be administered by a third party administrator(s) (TPA) with direct ties to the community.
The County is seeking qualified applicants to serve as the TPA(s).
CLICK HERE for more information and to apply.
Your Input Is Needed:
The Los Angeles County Homeless Initiative developed 51 strategies in 2016 to address and prevent homelessness. The Board of Supervisors has called for a reassessment of the Homeless Initiative strategies so that the County can double down on proven solutions, make necessary modifications, and develop new approaches. Please attend one of 9 community input meetings to help update the Homeless Initiative strategies.
The LARRP Ad Hoc Committee
on Public Health and Safety
According to L.A. Times: "As COVID-19 began hospitalizing and killing more people in Los Angeles last year, so did shootings in the street. The increased bloodshed, much of it linked to gangs, surged as the economy faltered, leading to the deadliest year of violence in L.A. in a decade."
Unlike COVID 19, which spawned the creation of a vaccine to slow the ravages of the deadly virus in less than 12 months, there is, to date, no remedy for the persistent and chronic plague of the senseless civil war among our young black males.In mid August, I hosted a group of national experts on urban gun violence to consider remedies and long term solutions that will impact this civil war amongst young men and women of color. We as a people are having a "Come to Jesus Moment" addressing this issue in our community literally takes all of our collective will. Because no amount of money, without a persistent will of the people, will eradicate the level of violence we see escalating among our children.
At LARRP we felt it is urgent to address our local gun violence crisis. Thus we are launching the Ad hoc Committee on Public Health and Safety. More specific details to follow, but if you are interested in participating please sign up below.
Joe Paul
LARRP Managing Director
Registration Now Open For Fall Classes At County Parks:
The L.A. County Department of Parks & Recreation opened registration for fall classes. From arts and culture to sports and martial arts, there are hundreds of virtual and in-person courses to choose from.
For more information, click here.
Two Incentives Programs For Landlords:
As part of the effort to address the homelessness crisis, the L.A. County Development Authority (LADCA) has two incentive programs to encourage landlords to rent available units to Section 8 voucher holder participants.
For more information, click here.
Help Envision the Federal Strategic Plan to Prevent and End Homelessness
The U.S. Interagency Council on Homelessness (USICH) is in the process of creating a new Federal Strategic Plan, and we want your input.
Submit your comments HERE
SURVEY
LA County American Rescue Plan Funding
LA County has received federal funding through the American Rescue Plan to help citizens reentering society after completing their sentences. People who are reentering society have a wide range of needs, and we hope this funding can be applied in a way that supports different aspects of the reentry journey. Will you take a few moments to share your thoughts on the needs of people that are reentering after completing their sentencing?
August Housing Rights in Your City
Learn how your city is protecting tenants and landlords during the COVID-19 pandemic. Join one of HRC's online workshops to learn the rights you have, where you live.
MEPS is working on a way to help re-entry populations stay healthy and away from drugs.
Want to participate and get paid?
INCUBATION ACADEMY
The ATI Office opened applications for its Incubation Academy.
The academy provides training, funding and technical assistance to new and existing community-based organizations, especially those run by Black, Latinx, and justice involved individuals.
The Incubation Academy builds capacity to deliver prevention and intervention service to justice involved individuals in their communities, giving judicial officers an alternative to incarceration in communities with the greatest needs.
Breaking Barriers seeks referrals
Breaking Barriers is a visionary rapid rehousing program providing housing, tenancy support, case management, and employment services to adults on felony probation who are experiencing homelessness or unstable housing.
The Breaking Barriers program has secured Board of State and Community Corrections (BSCC) funding and is now open to a limited number of new referrals. Due to current funding requirements, Breaking Barriers has adopted specific eligibility criteria. At this time, we can only accept referrals who meet this new criteria.
For more info DOWNLOAD THE FLYER
For an archive of reentry and criminal justice related news, please see our News Archive which goes back years!
A Proclamation on National Recovery Month, September 2021
THE WHITE HOUSE August 31, 2021
"This year's theme, "Recovery is For Everyone: Every Person, Every Family, Every Community," emphasizes that recovery is possible for all Americans. My Administration honors the many pathways to recovery and will support individuals and their families at every step along their journey, in whatever form it takes. Everyone can support and encourage those working toward recovery."
White House Weighs Clemency to Keep Some Drug Offenders Confined at Home
NYTimes By Zolan Kanno-Youngs and Charlie Savage, Aug. 30, 2021
Biden officials are exploring what should be done with inmates in home confinement whenever the pandemic emergency ends.
Crime trends and violence worse in California's Republican-voting counties than Democratic-voting counties
Center on Juvenile and Criminal Justice Mike Males, August 25, 2021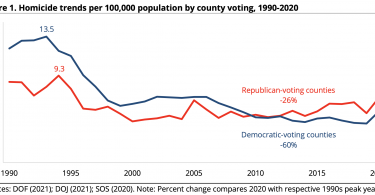 A report released today by the Center on Juvenile and Criminal Justice finds that, compared to the 35 California counties that voted Democratic in the 2020 presidential election, the state's 23 Republican-voting counties have higher rates of violent crime, including homicides.
For decades, Republican candidates and elected officials have demanded a "get-tough" approach to crime that generated more arrests, more imprisonments, and longer prison sentences. As a result, a person is 58 percent more likely to be arrested and 41 percent more likely to be incarcerated in a Republican-voting county than in a Democratic-voting one. Likewise, 12 of the 13 highest-incarceration counties vote Republican, while 16 of the 18 lowest-incarceration counties vote Democratic.
But have the hardline approaches pursued by Republicans officials actually reduced crime? Just the opposite. Republican-voting counties are seeing lesser declines in crime and higher rates of crime, particularly violent offenses and homicides, compared to their Democratic-voting counterparts.
Here's how Democrats, Republicans and others say you should vote in the California recall
By Madalyn Amato
Aug. 19, 2021
How you vote is up to you, but here's what your vote will mean and what various political parties, newspapers and others are saying.
Editorial: For the love of California, don't sit out this recall election
By The Times Editorial Board
Aug. 18, 2021
Gov. Gavin Newsom's most formidable challenger in the Sept. 14 recall election is not radio host Larry Elder, former San Diego Mayor Kevin Faulconer or any of the other 44 replacement candidates on the ballot, though they may like voters to think so.
Nope, the biggest threat to Newsom — and to Californians — is voter apathy.
Opinion: We need to receive the formerly incarcerated re-entering our community with hope and love
Long Beach Post for "Voices" by Jose Osuna, August 2021
Important opinion piece by LARRP Steering Committee member Jose Osuna
The People's Complaint
In response to Sheriff Alex Villanueva's continuous misconduct, Reform L.A. Jails is submitting a complaint with the Los Angeles Civil Grand Jury, calling for the Sheriff's removal under Government Code Section 3060. Their complaint details a wide range of misconduct and willful neglect of duty.
See LARRP Co-Founder and Steering Committee Member, Lynne Lyman, in action.
Want to Reduce Crime? Start with Funding Our Communities | Opinion
Newsweek, Gina Clayton-Johnson And Thea Sebastian , Attorneys, 7/29/21
Opinion piece by former LARRP consultant in the early days!
The Tent Mender
Hand Made Productions, is proud to announce the release of a limited three-part documentary film spotlighting people experiencing homelessness. Filmed entirely in the heart of Skid Row, it introduces raw, inspirational, and true stories. The series will be exclusively available to stream on August 6 on IMDb TV, Amazon's free streaming service.
LA County Board Of Supes Approves $187.7 Million Spending Package To Advance The County's "Care First, Jails Last" Vision
Witness LA, August 11, 2021 by Celeste Fremon
US Recidivism Rates Stay Sky High
The Crime Report, By Eva Herscowitz, July 30, 2021
Seven in 10 incarcerated people released in 34 states in 2012 were rearrested within five years, according to a Bureau of Justice Statistics (BJS) report on recidivism rates for prisoners in 34 states between 2012 and 2017.
The report includes grim findings about recidivism in the United States, where rates are among the highest in the world.
Hear Us: California Is Trailblazing the Path to Debt-Free Justice. Other States Should Follow.
Next City, OP-ED, July 29, 2021 by Jhumpa Bhattacharya & Stephanie Campos-Bui & Brandon Greene
Abolishing criminal fees and writing off current debt is the only systemic, permanent solution to this form of racialized wealth extraction, and it is a solution our communities want and deserve.
4,000 Homebound Detainees Could Be Sent Back to Prison After Pandemic Emergency Order Lifted
Democracy Now July 26, 2021