General Meeting
NO DECEMBER MEETING!
Employment:
NO DECEMBER MEETING!
Housing:
NO DECEMBER MEETING!
Education Committee:
December 1, 2022,
3:30PM - 5:30 PM
Integrated Health:
December 5, 2022, 2:00 pm
Department ofYouth Development
The Department  is now officially looking to grow its team to help fully realize the vision of Youth Justice Reimagined.
For more information, please contact Kelly Ty at KTy@hr.lacounty.gov or (213) 351-2929
LA Room & Board is HIRING!!!
LA Room & Board was recently awarded nearly $43 million dollars in grant funding (through Project Homekey 2.0) to acquire and operate two new housing facilities in Boyle Heights (Dunamis House) and East Hollywood (Excelsior House) Additionally, we're piloting a new program for nearly 20 students in Hollywood and still operating the Opportunity House This means we'll be operating housing programs at 4 locations across Los Angeles.
For More Info: jobs@larnb.org
Metro Bus Operator Hiring Event
Saturday, August 27th, 8am-1pm
LA Valley College, 5800 Fulton Ave, Valley Glen, CA 91401
We boast a $3,000 sign-on bonus for those qualified candidates!
Increasing Fair Chance Hiring in Tech: County Fair Chance Update and Step into Tech Project Findings
Dec 12, 2022 12:30 PM
LARRP's Employment Committee, in partnership with LA County's new Justice Care and Opportunities Department, the new Department of Economic Opportunity as well as Unite LA, is hosting a two-part presentation for anyone serving system
Upcoming Meetings  of the Probation Oversight Commission
December 8, 2022* at 12:00 p.m
ATI - Upcoming Meetings
CFCI Meeting: November 3, 2022 04:00 PM
Alternative Crisis Response (ACR) Public Convening
Vote now for Susan Burton to bye named an Oreal Woman of Worth
One honoree to receive an additional $25,000 grant to support her cause
2023 cohort of California Justice Leaders (CJL)
APPLICATION opens October 17th,
We are looking for young adults, primarily ages 21-35, who have had previous involvement with the justice system and want to become navigators for youth currently in or recently released from California's juvenile detention facilities.
CJL Senior Members
APPLICATION opens October 3rd
These positions are open to individuals who have served a year with CJL and want to reapply and take on a leadership role.
Interviews for both the CJL Member and Senior Member positions will be conducted on a rolling basis, so please encourage individuals to apply early.
LARRP has the most extensive listing of reentry and criminal justice related news articles and reports in California.
Gov. Newsom vetoes bill to end indefinite solitary confinement in California, citing safety concerns
LA Times, By Hannah Wiley , Sept. 29, 2022 
Gov. Gavin Newsom vetoed a bill Thursday to limit solitary confinement in California's jails, prisons and private detention centers, rejecting advocates' hopes to restrict a practice that many experts have likened to torture.
LA Supervisors Vote to Explore Creating Locked, 'Non-Correctional' Mental Health Facilities
The LAist, By Emily Elena Dugdale, Sep 27, 2022
The Los Angeles County Board of Supervisors unanimously approved a motion Tuesday that proposed establishing locked "non-correctional" mental health treatment facilities for incarcerated people with mental health needs currently languishing in the county jails.
L.A. County sheriff's unit accused of targeting political enemies, vocal critics
LA Times By Alene Tchekmedyian, Sept. 23, 2021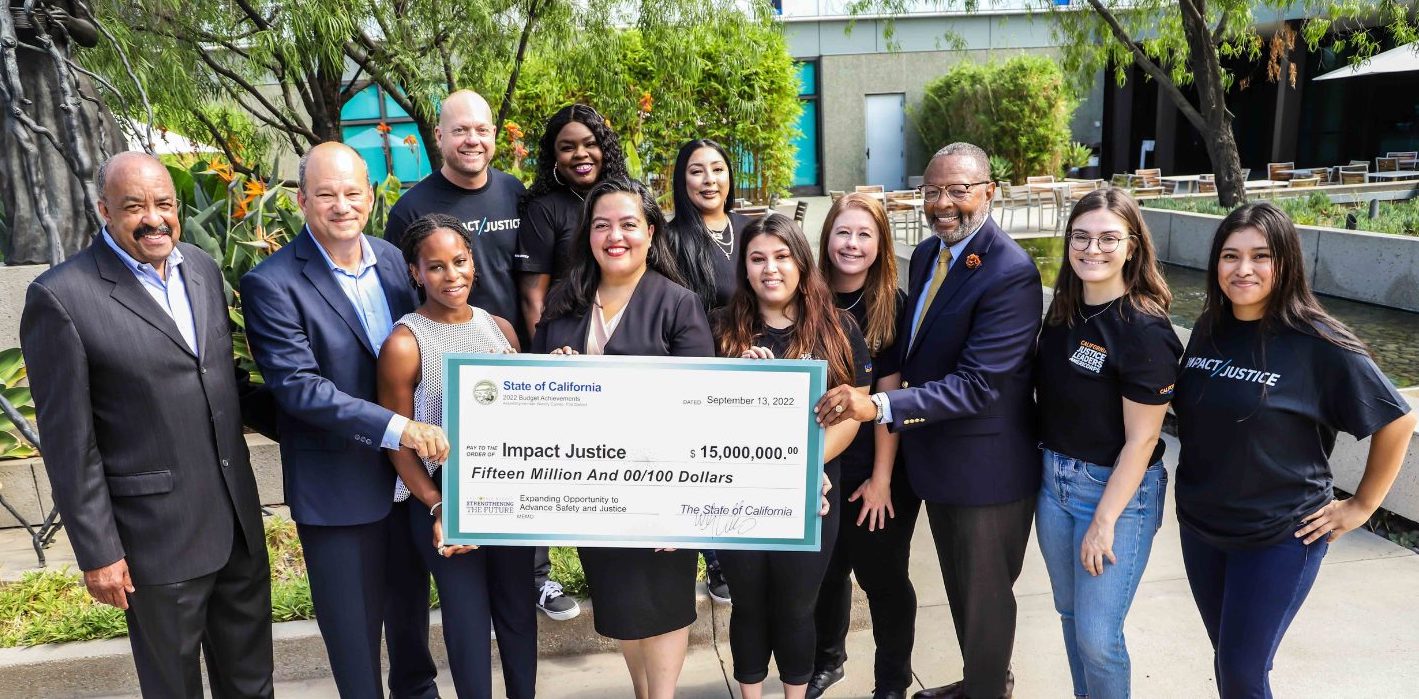 Impact Justice And Its Project Pairing Homeowners With Formerly Incarcerated Tenants Gets A $15 Million Boost
Witness LA, September 15, 2022 by Taylor Walker
The LARRP Policy and Advocacy Committee seeks to be a resource to inform and mobilize the reentry community around critical reentry policy issues and leverage the expertise of practitioners and impacted people into the policy making process.
The Committee will develop and advocate for the passage and implementation of legislative and administrative policies that improve opportunities for formerly incarcerated or convicted people, their families and communities, and the community-based agencies that serve them.
Committee work will be guided and prioritized by 3 questions:
Will it have a direct impact on the lives of impacted people?
Does it address reentry systems or services?
Does it reduce racial discrimination in the criminal legal system?
August 31, 2022
LARRP'S policy work in the month of August had some incredible victories and some very unfortunate losses, but we are proud of the work we have completed and want to thank you for your outreach and advocacy efforts along the way.
Victory update- Charter Amendment for Sheriff Accountably!
The LARRP team would like to provide a small update on the Vote that occurred yesterday.
Supervisors Mitchell, Solis, and Kuehl, the Board of Supervisors just voted 4-1 to pass the motion that will begin the month-long process to refer to the voters for the November 8, 2022 general election our charter amendment proposal for common sense checks and balances and accountability of the sheriff.
Shout out to Sam Lewis for powerful public comment and being the amazing advocate you are!
LARRP Membership  is open to any person or agency with an interest in reentry in Los Angeles County and whose interests are aligned with the LARRP mission. This would include, but not limited to, formerly incarcerated or convicted people and their families; reentry providers, advocates and researchers; government agencies; schools; faith-based agencies; youth oriented organizations; service clubs; neighborhood councils; and elected officials.
LARRP has 3 classes of paid membership:
$50 – Individual
$250 – Small Organization (Annual budget under $500,000)
$500 – Large Organization (Annual budget $500,000 +)
LARRP has two classes of non-paid participants
Currently incarcerated individuals
Individuals, government agencies, and other entities that do not choose to join LARRP, but support LARRP's mission and would like to be engaged and involved with LARRP and its members.
LARRP is a network of public, community and faith-based agencies and advocates working together to ensure that our reentry system meets the needs of our agencies, communities, and the people we serve, both in terms of capacity and public policy.
The Los Angeles Regional Reentry Partnership (LARRP) is the only countywide network of reentry focused non-profit organizations, public agencies, and advocates that works to ensure that our reentry system meets the needs of our agencies, communities, and the people we serve, both in terms of capacity and public policy.
Since 2011, LARRP has been building a locally rooted reentry movement to advance positive change for millions of formerly incarcerated and convicted (FIC) Angelinos and build public will for greater equity in the criminal justice system. Since inception, LARRP has worked tirelessly to increase funding for housing, health, and social services for the FIC people and those who serve them.
LARRP is a project of Community Partners.
The aim of  of the Community Safety Committee is to:
SEED change by identifying drivers of violence;

NURTURE

the work by inclusively engaging a broad and diverse group of stakeholders in a balanced and democratic conversation about approaches to addressing violence;
HARVEST the fruit of the work by defining an approach to systems change that can be implemented, evaluated, and shared.
The mission of the Education Committee is to:
BUILD BRIDGES from corrections to college in Southern California by providing a framework and opportunity for information and resource sharing for individuals and programs that support educational opportunities for the reentry population.
Enhance the educational experience by linking academics, business, and the reentry community.
Promote restorative justice, support partnerships, network, share resources, and encourage and celebrate educational excellence.
Convene periodically to discuss progress, evaluate goals, and develop plans.
The Mission of the Integrated Health Committee is to:
CONVENE re-entry stakeholders dedicated to improving the comprehensive mental health, physical health, and the substance use needs of the reentry population by addressing inequity across systems of care and increasing access to care.
The LARRP Housing Committee focuses on:
UNDERSTANDING the housing and homeless services landscape
IDENTIFYING interim and permanent housing solutions for the reentry population.

TRACKING

policies and guidelines that impact formerly incarcerated individual's ability to access housing subsidies and resources.
2-1-1 is the number that over 400,000 people in Los Angeles County call every year when looking for food, shelter, and other crisis and disaster services including during the ongoing COVID pandemic when calls for assistance nearly doubled. 211 LA is the non-profit organization that has provided this 24/7 helpline service since 1981 when it…
LARRP L.E.A.D.E.R.S.
The L.E.A.D.E.R.S. Training Academy is a project funded by CCJBH; Council on Criminal Justice and Behavioral Health. Its' purpose is to provide capacity to the formerly incarcerated, the people who have been closest to the problem but the furthest away from the solutions.
D.O.O.R.S Community Reentry Center
The Office of Diversion and Reentry partnered to open DOORS (Developing Opportunities and Offering Reentry Solutions) Community Reentry Center located at 3965 Vermont Ave. in Los Angeles. DOORS provides many supportive services to address and assist the reentry community and their families. These services are provided in a welcoming environment by county partners and community-based organizations that are considered leaders in the reentry work and experienced professionals with high risk communities. Services offered include housing, employment, educational services,legal aid, mental health assessments, healing through the arts, and substance use health and counseling.